Oak Leaf Inspections
Sep 2, 2021
About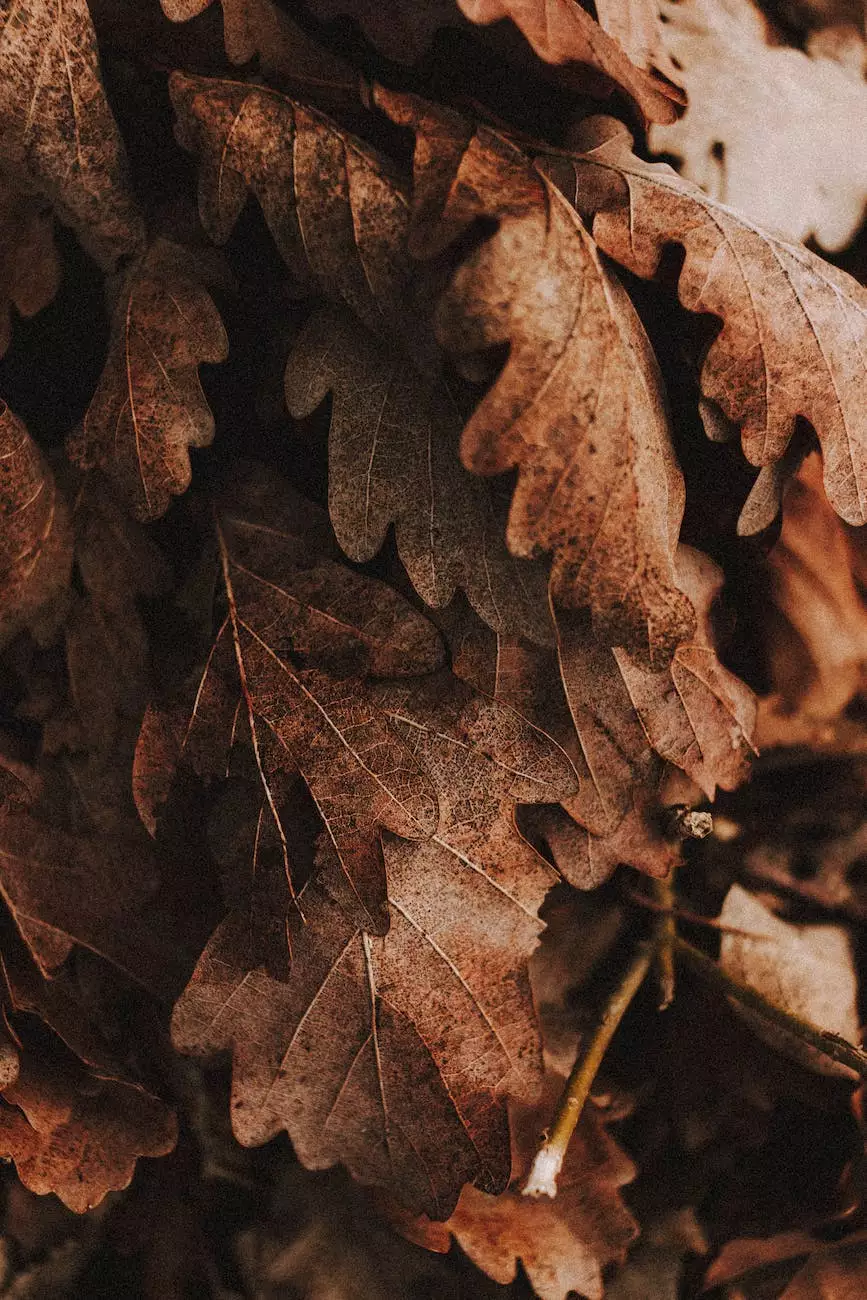 Comprehensive Home Inspection Services in Wilmington
Welcome to Oak Leaf Inspections, a trusted provider of high-quality home inspection services in Wilmington. Whether you are a first-time homebuyer or a seasoned investor, our experienced team is here to ensure your peace of mind during the home buying process.
Why Choose Oak Leaf Inspections?
With Oak Leaf Inspections, you can expect nothing less than exceptional service and attention to detail. Our commitment to excellence sets us apart from other inspection companies in the area.
1. Experienced and Certified Inspectors
Our team of inspectors are highly trained and certified professionals with extensive knowledge of home systems and components. They possess the skills necessary to identify potential issues and provide you with accurate and detailed reports.
2. Thorough and Unbiased Inspections
We believe in conducting thorough and unbiased inspections to help you make informed decisions. Our inspectors examine every aspect of the property, from the foundation to the roof, ensuring that no detail goes unnoticed. We take pride in delivering comprehensive reports that highlight both the strengths and areas of concern within the property.
3. State-of-the-Art Tools and Technology
At Oak Leaf Inspections, we utilize the latest tools and technology to enhance the accuracy and efficiency of our inspections. Our advanced equipment allows us to detect hidden issues that might not be visible to the naked eye, such as moisture intrusion or electrical problems.
4. Exceptional Customer Service
We prioritize customer satisfaction and strive to provide exceptional service at every step of the process. From scheduling your inspection to answering any questions you may have, our friendly and knowledgeable team is dedicated to ensuring a smooth and stress-free experience for our clients.
Our Comprehensive Inspection Process
When you choose Oak Leaf Inspections, you can expect a detailed and systematic inspection process that covers all crucial aspects of the property. Here's an overview of what our inspections entail:
Exterior Inspection: We thoroughly examine the exterior components of the property, including the roof, siding, foundation, and more. Our goal is to identify any potential issues, such as leaks, structural damage, or poor construction.
Interior Inspection: Our team carefully inspects the interior of the property, assessing the condition of walls, floors, ceilings, windows, doors, and other components. We also check for signs of water damage, mold, or pest infestations.
Electrical Systems: We inspect the electrical systems of the property, ensuring that they are safe and up to code. This includes analyzing the main electrical panel, outlets, switches, and wiring.
Plumbing Systems: Our inspectors assess the plumbing systems, checking for leaks, proper water pressure, functioning fixtures, and overall plumbing functionality.
Heating and Cooling Systems: We evaluate the condition and performance of the heating and cooling systems, determining if they are operating efficiently and identifying any potential issues.
Structural Integrity: Our thorough inspection includes an assessment of the property's structural integrity, looking for signs of foundation problems, sagging floors, or other structural issues.
Additional Areas: We inspect additional areas such as the attic, crawlspace, and garage, ensuring that these spaces are in good condition and free from any potential problems.
Contact Oak Leaf Inspections Today
When it comes to your dream home, don't settle for anything less than the best. Contact Oak Leaf Inspections today to schedule your professional home inspection. We are here to provide you with the detailed information you need to make an informed decision during the real estate process. Trust in our expertise and let us be your partner in ensuring a safe and sound investment.
Remember, a thorough home inspection is an essential step to protect your investment!